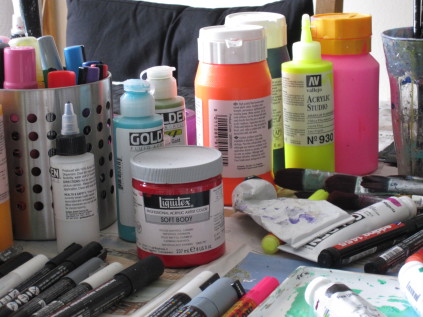 My paintings
- I have always loved colours and forms and I am very attracted to everything with a bright colour. Also design and home decoration have been my interest for many years and I get very inspired by magazines and interior.
- I think that art gives character to a room.The colours and things that surrounds us affect us. You show who you are by choosing the art that you like.
- I am very visual and my passion is to create images/paintings.
How I work
- My studio is at home and I always work on several paintings at a time. It is a process that might take some time. When I look at a painting in progress which I have not worked on for some time....it opens my eyes for new posibillities.
My paintings
- My paintings are made with acrylic on canvas. Some times I use spay paint and Posca too and some times I make a collage. Then I use american or english papers in my art - it gives an extra attitude and I like that.
Order a painting
- If you like a painting in a special size,contact me and let me hear what you are thinking of.